Remove hair with ease, with no razor burn and no ingrown hairs, from the comfort of your own home, with little to no pain!
Our Laser Pro Hair Removal Handset is now with LCD that lets you monitor the Levels and Shots remaining you have with your handset 💗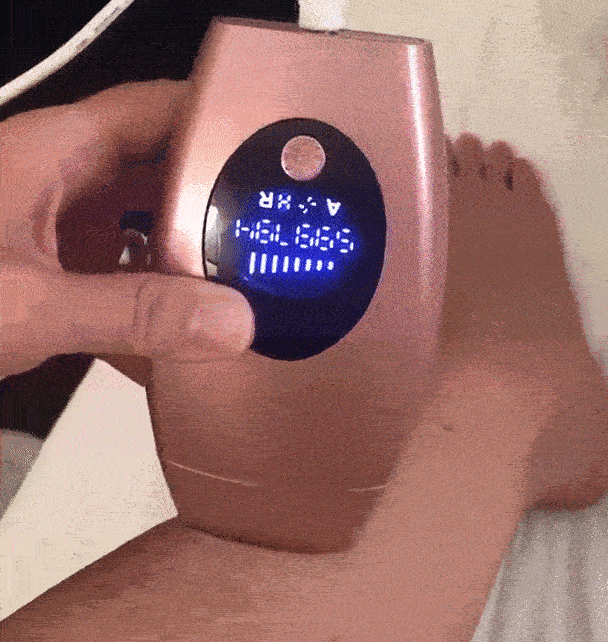 ❌ NO MORE SCENARIOS LIKE THIS ❌
The Laser Hair Removal  can be used on any body part (including your Face and Brazilian) in just a few minutes, right in the  comfort of your own home! The Laser Hair Removal has 10+ years of flashes, when used as recommended, and that means you'll be hair free for a very long time!
Hair removal made easy- All in the comfort of your own home, in just minutes and at a fraction of the cost of in-clinic laser treatments!
HOW OFTEN DO I NEED TO USE IT?
We recommend using your handset once or twice a week for the first 12 weeks. After this period use your handset once up-to twice a month, for 3 months or until satisfied. To maintain hairless smooth skin, use your handset once every 2 to 3 months, or as needed.
 RECOMMENDED PERIOD OF USE
  First Month: 2 times a week
  Second Month: Once a week
  Third Month: Twice a month
  Succeeding Months: Once a month for maintenance
     WHY YOU NEED IT?
Visibly reduced hair after 2-3 months
Safe for use on face, body & full Brazilian
Adjustable for your skin sensitivity
No ingrown hairs or skin irritation
Suitable for all but the darkest skin tones
Clinically proven safe and effective
10+ year lifespan (600,000+ flashes)

HOW TO USE IT?
No batteries or charging required, simply plug in the device to begin treatments. Bring the machine close to the target area, so it is perpendicular to the skin, and apply the laser light treatment. With 5 levels of light pulse intensity, you can customize the treatment to suit your level of hair growth.
SAVE YOUR TIME AND YOUR MONEY
✔ The treatment is fully safe and gives no side effects. You can remove your hairs without burning your skin.
✔ Working thanks to the technology (Intense Pulsed Light), it emits a large spectrum of light that removes hairs vastly without any pain.
✔ The treatment can be done quickly, you only have to shave the body part you before using the laser, this allows the Intense Pulsed Light to target the area effectively.
WHICH AREAS OF MY BODY CAN I USE THIS ON?
You can use your handset on your entire body, including your face (just be sure to not get too close to your eyes, we recommend wearing sunglasses while using it).
Model :

IPL epilator

Use: 

Bikini, Body, Face & Underarm

Feature 1: 

Women painless epilator

Feature 2: 

600000 flash hair removal

Color: 

White/pink

Function 1: 

Personal care tool

Function 2: 

Flawless hair remover

Feature 4: 

LCD display laser epilator

Feature 5: 

5 gear IPL hair removal

Package: 

Gift box consists

free glasses